Truman Trek College Cup Challenge
You are invited to participate in the College Cup Challenge, where you can:
Build spirit within the Residence Halls
Enjoy some friendly competition
Get acquainted with your new home
Meet other first-year students
Display your talents and abilities
Have a great time during your Truman Week experience
Laugh, shout, scream, chant, and celebrate!
The object of the College Cup Challenge is to win the coveted College Cup! The Residence Hall that earns the most points during the week gets to display the College Cup in the Hall for the entire year. If your Hall wins, you earn the bragging rights over the other
Halls for your entire first year at Truman!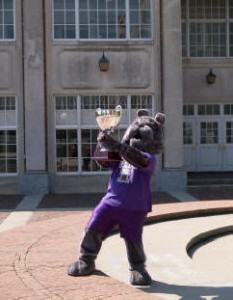 You can earn points form your Hall in two ways: team events and individual events.  During the week there are four team competitions: Inclusivity Poster Challenge, Trivia Challenge, Ridiculous Relays, The Big Show, Prop It Up, and the Participation Challenge.  During the participation challenge, you can earn points as an individual for your Hall by participating or showing up to support your Hall in the following events: Ice Cream Social, Mocktails, Bulldogs in Action, and Ridiculous Relays.  You may earn Participation Points simply by attending designated events. But remember you must SWIPE your ID CARD to receive points!!!!